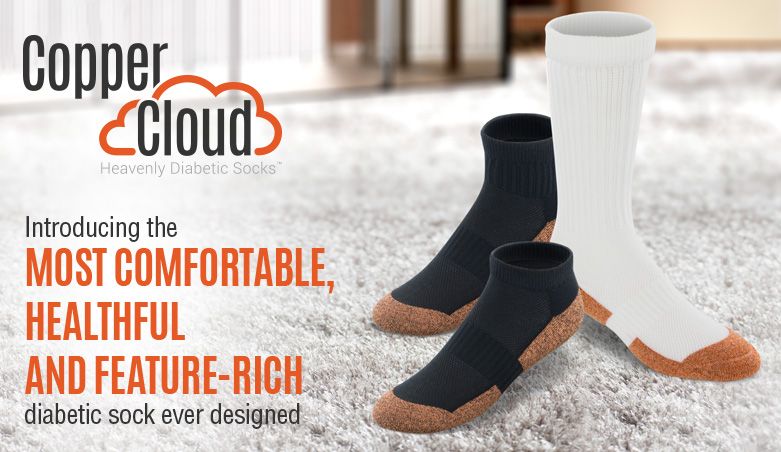 Non-binding welt

Moisture-wicking acrylic to keep feet cool and dry

Y-heel and toe construction for a perfect fit

Heel and forefoot padding

Multi-benefit, copper-infused yarn

Light arch support

Ventilated airflow

Seamless construction for maximum protection
"I suffer from Restless Leg Syndrome. Since I started wearing the Copper Cloud socks, the pain and discomfort has lessened greatly. "
- Jack T. Aragon, Boulder Colorado ( 85 years young )
Copper Cloud socks provide superior comfort & protection while promoting improved circulation and softer skin!
Designed to help promote better circulation and reduce the risk of complications that can arise from diabetes, Copper Cloud socks are not only a healthier choice for diabetics, but a superior choice for everybody! We've infused our yarn with copper fibers that are clinically proven and doctor-recommended for eliminating 99.9% of odor-causing bacteria and fungi, and for promoting softer, healthier skin.
Copper Cloud Features:
Seamless design curbs ulceration
Moisture-wicking promotes dryer feet
Ventilated airflow for temperature control
Non-binding for improved circulation
Copper yarn means antibacterial/antifungal/ anti-odor and softer skin
Heel and forefoot padding for ultimate comfort
Light arch support helps relieve achiness
Y-heel and toe construction for perfect fit
Doctor-recommended to help keep feet wound-free, odor-free and feeling great!
4 sizes: Extra Small, Small, Medium, Large 3 styles: Crew Length, Ankle and No-Show 2 colors: Black & White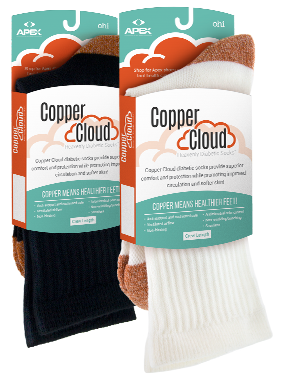 Satisfaction Guaranteed!
Return Policy: If for any reason you are not fully satisfied with your Apex Copper Cloud socks, return with original proof of purchase to retailer for a full refund.
Unworn socks in original packaging will be accepted and fully refunded within 90-days of purchase.
Worn socks will be accepted and fully refunded within 30-days of purchase.
* Retailer return policies and restrictions may apply.